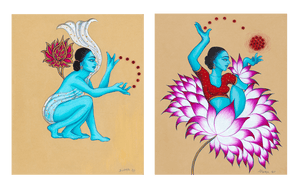 Adina 2 & 3 Original Framed Diptych
As we all face new challenges, we must continue to have hope for tomorrow. Cause for Comfort is an initiative to support organizations affected by the Covid-19 crisis. Artist Siona Benjamin has designed beautiful prints and blankets for this purpose with 15% of sales donated to these organizations in need of assistance. 
Adina 2 and Adina 3 - Sold as Diptych
Allow 3 weeks for delivery

Each piece is 13" x 14.5"

Gouache and mixed media on museum board