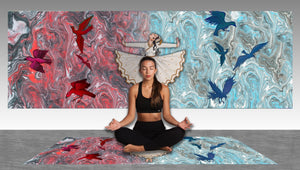 Luminosity #1 Yoga Mat
Our ECO Mats are MADE IN THE USA and made of a high quality, eco friendly, BPA and phthalates FREE, cellular vinyl.  The mats offer a soft cushion feel, and contains a mesh center membrane for dimensional stability.
70" x 24" wide, weighs approximately 3lbs, and is a comfy 1/4" thick. 

All of our mats are non-toxic and latex free.
May take up to 7 business days to ship.