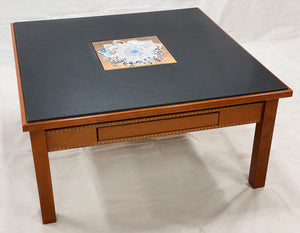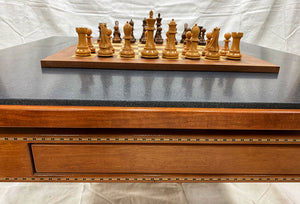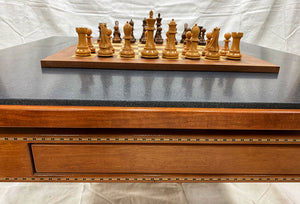 Granite Top Coffee Table
This coffee table is made with solid cherry wood and has a granite top.
It is highlighted with a porcelain art tile in the center.

A Chess Board can slide under the top of the table and above the drawer. Chess pieces can be stored in a velvet lined drawer that slides out!

Size: Contact for sizing

Presenting a collaboration of fine furniture and art, between Peter Tschudy and Siona Benjamin. Here is a line of furniture inspired by colonial India, Peter's unique wood craftsmanship and design, mixed with Siona's original artwork.
Contact artsiona@gmail.com for details about purchase and ordering.

Peter Tschudy is a wood craftsman making high quality furniture and renovating homes for the past 30 years. www.petertschudy.com
Siona Benjamin is a fine art painter who has been exhibiting and making art internationally. www.artsiona.com