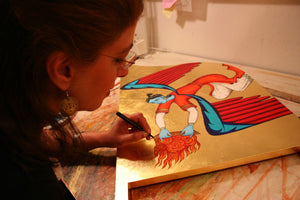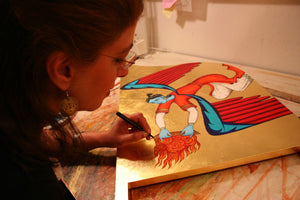 Closets and Torah Arks - Made to Order
CONTACT FOR PRICING
Closets and Torah Arks on special order

Here is an example of a Torah Ark:

This Torah Ark is approximately 42" wide x 80" tall

Price for these special orders will depend on specifications needed by client. Approximate price range will be starting at $6000 to about $20,000

SAR Torah Ark commission:

Influenced by Betzalel's Ark, I incorporated some original iconography in my Torah Ark. I made an ark influenced by my Indian Jewish background and upbringing. I looked at Indian and Iranian sepher torah cases and designs, also Jewish synagogues in Morocco. These places have a vibrant mystique, ornamentation and color. The peacock green color of Moroccan synagogues and the onion dome shapes in the architecture inspired me. The velvet and silver Sepher Torahs of my Bombay synagogues also served as inspiration for the shape of my Torah Ark. My cherubim are angels named "Fereshteh" that bring the fire of hope and courage. My mother's Shabbat lamp she lit every Friday made with oil and wick, which burned all night into the morning in our Bombay home, is this same fire. My ark sits on a "celestial throne" or table and perfumed myrrh and frankincense comes from the water lilies within the Arabian oceans of my childhood.
Contact artsiona@gmail.com for details about purchase and ordering.